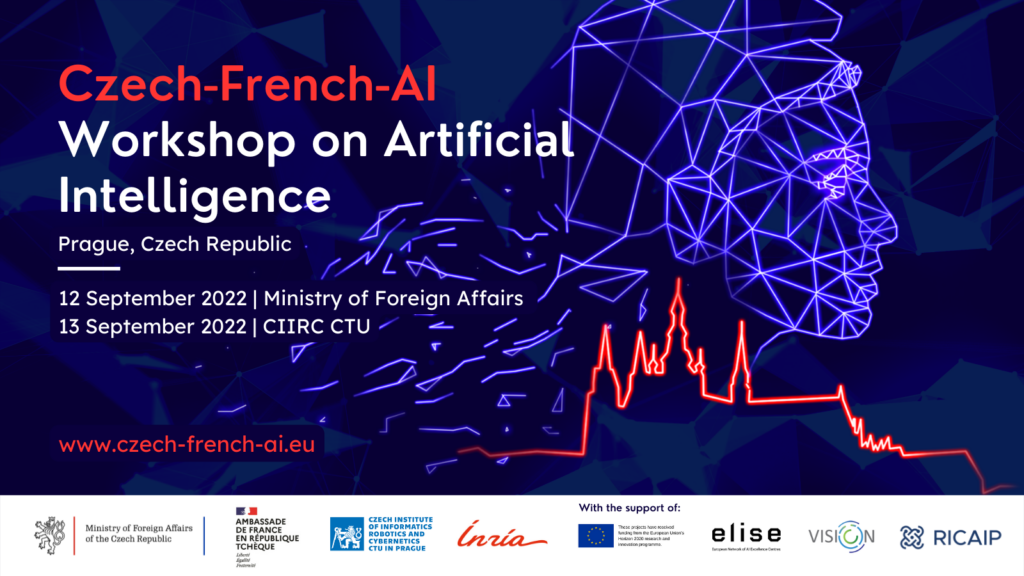 The two-day meeting of leading Czech and French researchers, developers and innovative entrepreneurs will be an important stimulus for new collaborations and partnerships in the strategically important field of artificial intelligence. It will be held on September 12 and 13, 2022 at  Černín Palace (1st day) and CIIRC CTU (2nd day).
Cooperation for the benefit of revolutionary innovations and support of start-ups using competitiveness poles is one of the goals of the Czech-French strategic partnership. Both countries have significant capacities in the field of artificial intelligence (AI) in research and development of new applications. At the same time, both Prague and Paris fully support the joint efforts of EU countries to be one of the global leaders in the use of advanced digital technologies.
AI is one of the great opportunities, provided that its use is in line with the European values ​​of open economic competition, protection of the integrity of the individual and the use of data for the benefit of society in the entire spectrum of applications from advanced manufacturing, through precision agriculture and environmental protection, to medical application, education or social services. The massive use of AI, which we are already witnessing today, can also bring certain risks. Therefore, the representatives of both countries agreed on the need to contribute to the discussion and invited to Prague important actors across the fields of AI, including experts on ethical and regulatory issues.
The program of the first Czech-French workshop on artificial intelligence, which takes place on September 12 and 13, will also include more general topics such as effective management of applied research for the needs of state administration, the private sector and the public.
The two-day meeting was jointly prepared by several institutions from both countries: the Ministry of Foreign Affairs and the Embassy of France in Prague, and the research institutes Inria and CIIRC CTU. The event will feature a number of leading Czech and French researchers in key AI topics, other experts and innovative entrepreneurs. To date, approximately 200 participants are registered. More information about the workshop program and its expected outputs can be found at https://czech-french-ai.eu.
The proceedings will be streamed live.