Datum / čas
Date(s) - 28.04.
13:00 - 15:00
Kategorie ne Kategorie

Roadshow NCP4.0 a CzechInvestu pokračuje i v roce 2021
V minulém roce jsme společně se státní Agenturou pro podporu podnikání a investic CzechInvest zahájili sérii workshopů na různá témata Průmyslu 4.0 pod názvem "ROADSHOW: DIGITALIZACE MSP". V letošním roce budeme v pořadech pokračovat a přineseme vám zajímavé diskuze na další témata, která se dotýkají digitalizace výroby podle principů Průmyslu 4.0. Spolu s našimi hosty vám představíme to nejlepší z technologií, aplikací a postupů, které vám mohou pomoci při řízení výroby a chodu společnosti v duchu průmyslu 21. století.   
I letos budeme pokračovat v živě moderovaných studiových diskuzích, při kterých náš moderátor Aleš Vlk z portálu VědaVýzkum.cz zpovídá zajímavé hosty z řad firem, univerzit a výzkumných institucí na dané téma. Bezprostřednost živého setkání spolu s rychlou obměnou hostů, a to vše v čase pod dvě hodiny, nabízí přitažlivý formát, který dává širší odborné veřejnosti příležitost seznámit se s důležitými tématy digitalizace a modernizace průmyslové výroby podle nejnovějších trendů.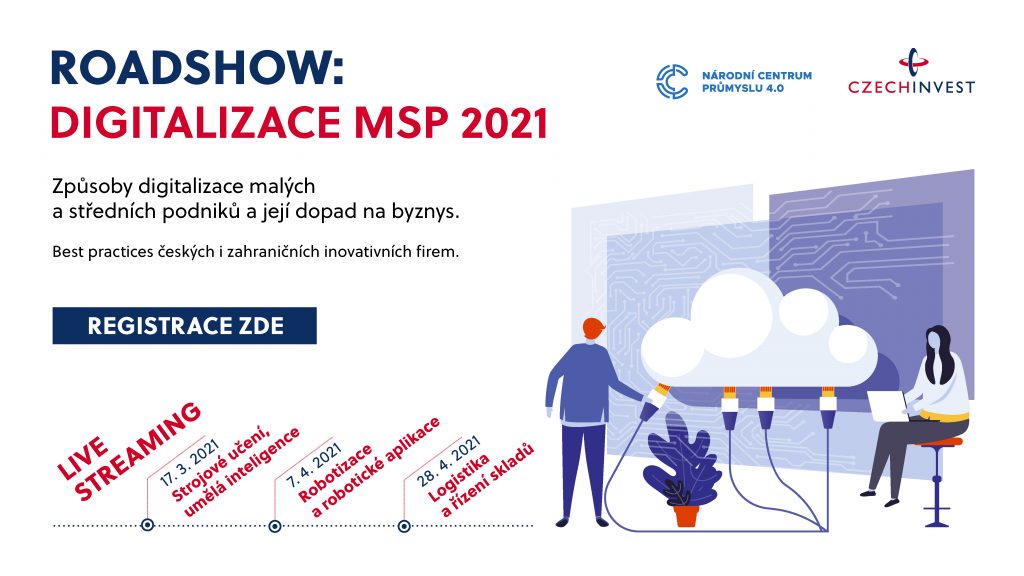 V rámci pořadů, které chystáme na letošní jaro, vám ukážeme aplikace, které využívají umělou inteligenci a strojové učení, a vysvětlíme, co je skutečná umělá inteligence a k čemu může být užitečná. Role průvodce tématem umělé inteligence se ujme Tomáš Mikolov, laureát Ceny Neuron za významný vědecký objev v oboru computer science 2018, který významně zdokonalil zpracovávání lidského jazyka počítačem a zásadně tak přispěl k rozvoji umělé inteligence. V minulosti pracoval pro takové technologické giganty, jakými jsou Google, Facebook nebo Microsoft a v současnosti působí jako vedoucí výzkumného týmu na CIIRC ČVUT v Praze, a v pořadu bude naším prvním hostem. Praktické uplatnění umělé inteligence a strojového učení ukážeme na reálných příkladech firem, které s těmito technologiemi pracují.
V dalším pořadu se budeme věnovat robotice a robotickým aplikacím a spolu s našimi hosty se zamyslíme nad tím, kdy a kde bychom měli uvažovat o nasazení robotů, a kde to naopak smysl nedává. Představíme vám proces, kterým si musíte projít, pokud chcete zavádět roboty do výroby a povíme vám, podle čeho rozhodnout, zda jsou kolaborativní roboty to pravé pro vaši firmu. A samozřejmě ukážeme příklady robotických implementací z praxe.
A nakonec se v pořadu věnovaném logistice a řízení skladů podíváme, jak efektivněji spravovat firemní skladové hospodářství, jak mít přehled o "každém šroubku" a jak nabídnout zákazníkovi přesně ty logistické služby, které potřebuje. Automatizace a digitalizace se nevyhýbá ani tomuto odvětví, a právě zde je zavádění technologií P4.0 v současnosti na vzestupu.