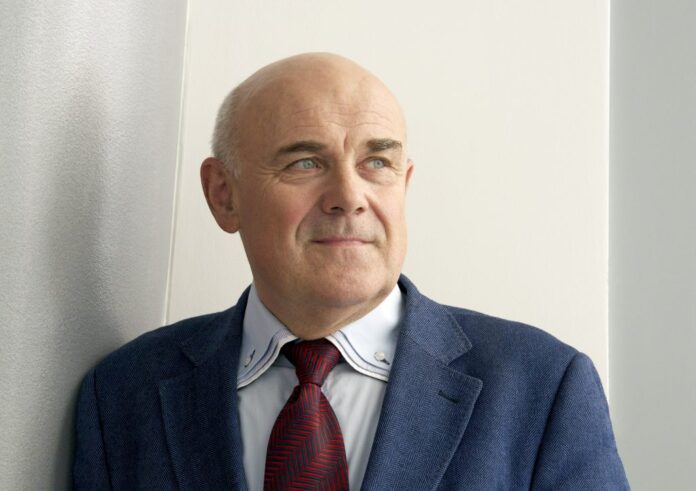 The Scientific Director of the CIIRC CTU Professor Vladimír Mařík has achieved the status of "Life Fellow" for many years of Loyal Membership and Support of the Activities of IEEE.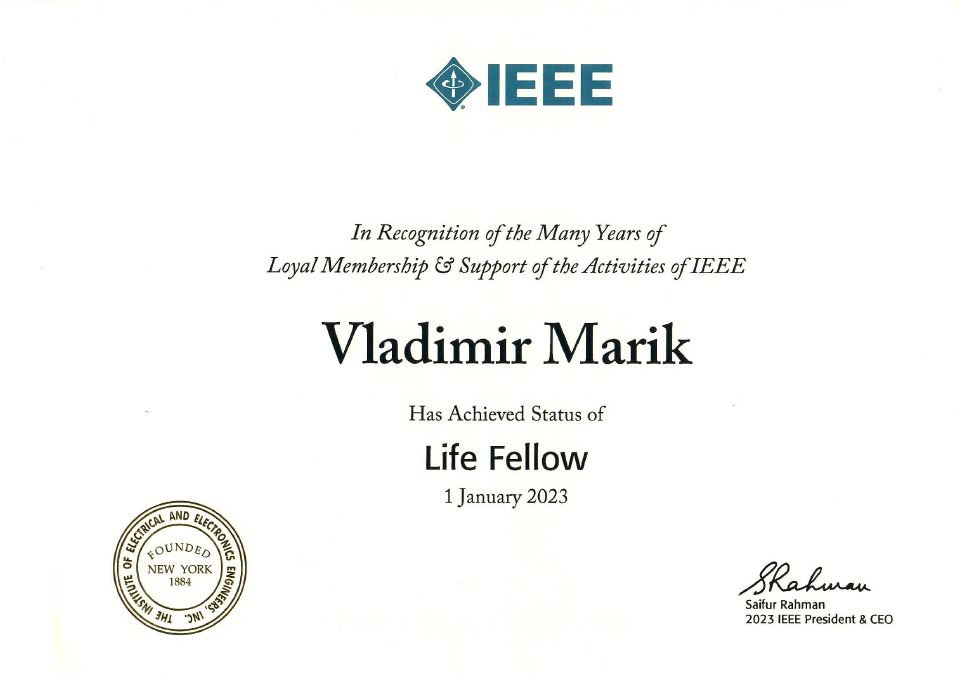 IEEE Fellow is a distinction reserved for select IEEE members whose extraordinary accomplishments in any of the IEEE fields of interest are deemed fitting of this prestigious grade elevation. Professor Mařík is recognized by the IEEE as a technical leader in the field of industrial applications of cybernetics.
Details about the work, publications and citations of Professor Vladimír Mařík you can find in the database kept by the IEEE here.
You can also read about the IEEE SMC conference that took place in Prague in October 2022 here.
And more about Professor Mařík you can learn for example from an interview with him or listen to a podcast on the subject of Industry 4.0 (in Czech only).

Institute of Electrical and Electronics Engineers (IEEE)
The roots of the IEEE (pronounced "Eye-triple-E") go back to 1884 when electricity began to become a major influence in society. This year the American Institute of Electrical Engineers (AIEE) was founded. In 1912, when the new industry of radio telegraphy emerged, another organization was founded that was called Institute of Radio Engineers (IRE). And in 1963 these two societies were merged together in IEEE.
IEEE is the world's largest technical professional organization dedicated to advancing technology for the benefit of humanity.
In 2021 the IEEE had:
Over 409,000 members in more than 160 countries, more than 60 percent of whom are from outside the United States

More than 125,000 Student members

343 Sections in ten geographic Regions worldwide

2,615 Chapters that unite local members with similar technical interests

3,565 Student Branches at colleges and universities in over 100 countries

3,182 Student Branch Chapters of IEEE technical Societies

608 affinity groups; IEEE affinity groups are non-technical sub-units of one or more Sections or a Council. The affinity group patent entities are the IEEE-USA Consultants Network, Young Professionals (YP), Women in Engineering (WIE), Life Members (LM), and IEEE Entrepreneurship

39 technical Societies and seven Technical Councils representing the wide range of IEEE technical interests

more than 5 million documents in the IEEE Xplore® digital library, with more than 15 million downloads each month

an active portfolio of 1,076 standards and more than 900 projects under development

publishes approximately 200 transactions, journals, and magazines

sponsors more than 2,000 conferences and events in 96 countries while contributing over 3.6 million total conference papers to IEEE Xplore since 1936, with as many as 200,000 new papers added annually
Source: https://www.ieee.org/about/at-a-glance.html?utm_source=linkslist_text&utm_medium=lp-about&utm_campaign=at-a-glance