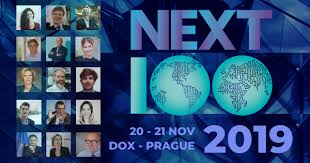 For the second time, Prague will host the Next 100 Symposium, the flagship Autumn working meeting of the Global Arena Research Institute bringing together the realms of technology, society, politics, economy, environment and more. A working dialogue about how to translate crisis-driven language into future-oriented ideas on a global scale and a vision of the next one hundred years.​
2019 marks 30 years of the democratic transitions in Europe. How shall we revive the future-oriented spirit that framed the exciting weeks and months of 1989-90, knowing the current concerns of sustainability, environment, globalisation, societal changes, digital and technological transformations? How do we connect with and curate the future with innovation, and how do we integrate and utilize new opportunities? GARI, for one, is creating a digital ontology of globalisation.
CIIRC CTU is a proud partner of 2019 NEXT 100 Symposium. 
Featured speakers in the CIIRC section:
SPOTLIGHT: PATRICK VAN DER SMAGT
DIRECTOR OF FUNDAMENTAL AI, VOLKSWAGEN
SPOTLIGHT: VLADIMIR MARIK
SCIENTIFIC DIRECTOR, CIIRC
Testbed for Future Industries: RICAIP
SPOTLIGHT: HOLGER HOOS
FOUNDER, CLAIRE – CONFEDERATION OF LABORATORIES FOR ARTIFICIALINTELLIGENCE RESEARCH IN EUROPE
European AI: Global Contender?
 SPOTLIGHT: MARTIN TOLAR: STATE OF ART OF ALZHEIMER RESEARCH
FOUNDER, ALZHEON, USING AI TO BATTLE ALZHEIMER'S 
STUDIO: AI & REASONING: A VIEW FROM THE TRENCHES
JOSEF URBAN, AI4REASONING, LEAD RESEARCHER
More information and registration: CIIRC CTU employess and CTU students can use this one-of-a-time opportunity and free entrance (to be verified by CTU ID).
Programme: