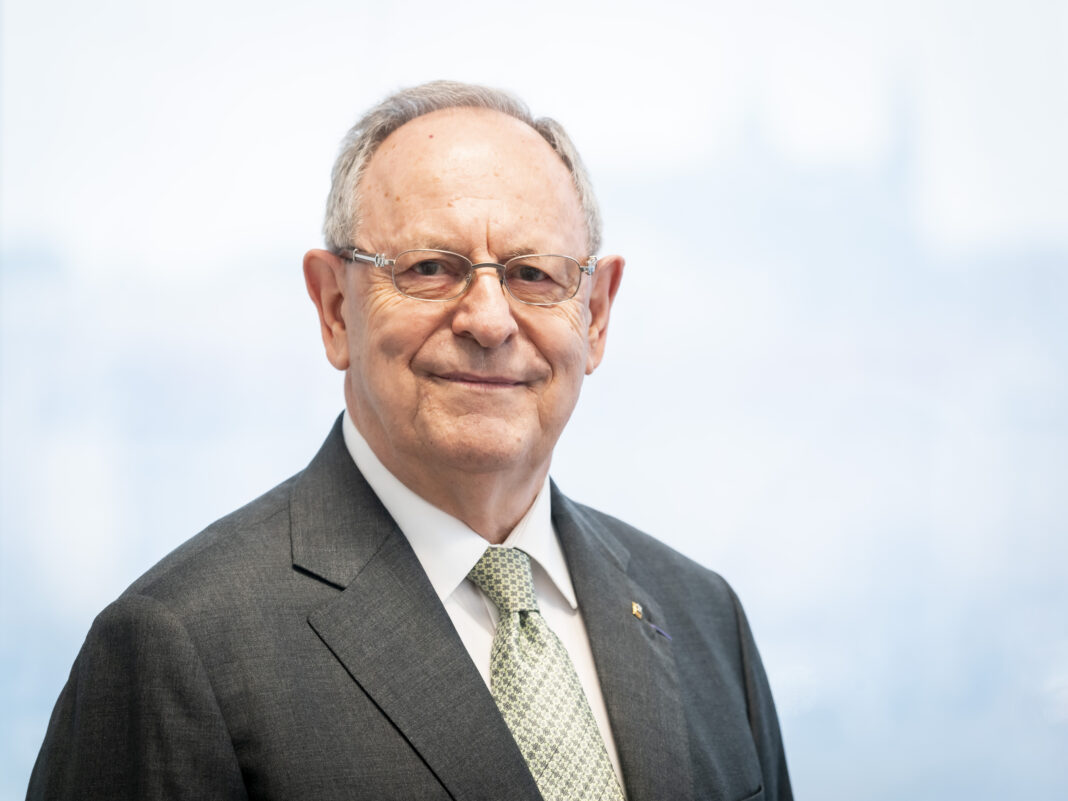 Professor Vladimír Kučera was elected to become a member of the elite American Philosophical Society in 2023. The Society includes less than 1000 members worldwide of which only 158 members are from abroad. Election to the Society honours extraordinary accomplishments in the fields of mathematics and physical sciences, biological sciences, social and behavioural sciences, arts and humanities, and public affairs. Professor Kučera is only the fourth Czech citizen elected to the Society after Presidents Masaryk (1936), Beneš (1939), and Havel (1995).
Vladimír Kučera was voted into the Society Class 1 of Mathematical and physical sciences. In the past years, his professional career has been associated with the Czech Institute of Informatics, Robotics and Cybernetics (CIIRC) CTU. The scientific contribution of Professor Vladimír Kučera is perceived primarily in three revolutionary results that have advanced world science in the field of automatic control. The three results are an original synthesis of discrete control systems, also known as the polynomial equation approach; the Youla-Kučera parameterization of stabilizing controllers and the non-interactive control of complex systems, known in the literature as "decoupling": a problem that was formulated 80 years ago and could not be solved.
"The fact that I have been elected to a society that brings together such personalities as Nobel laureates, prominent statesmen and humanitarians, and people I respect immensely, really surprised and delighted me at the same time," says Prof. Vladimír Kučera.
The American Philosophical Society, the oldest learned society in the United States of America, was founded in 1743 by Benjamin Franklin for the purpose of "promoting useful knowledge."  The Society sustains its mission in several principal ways. It honours and engages distinguished scientists, humanists, social scientists, and leaders in civic and cultural affairs through elected membership and opportunities for interdisciplinary, intellectual fellowship. It supports research and discovery through grants and fellowships, lectures, publications, prizes, exhibitions, and public education.  It serves scholars through a research library of some 13 million manuscripts and other collections internationally recognized for their enduring scholarly value.
Early members included George Washington, John Adams, Thomas Jefferson, James Madison, Alexander Hamilton, and John Marshall. The Russian Princess Dashkova, president of the Imperial Academy of Sciences of St. Petersburg, was elected in 1789 and was the Society's first female member.  In the nineteenth century, John James Audubon, Robert Fulton, Charles Darwin, Thomas Edison, Maria Mitchell, and Louis Pasteur were among those elected.  Hans Bethe, Willa Cather, Marie Curie, Albert Einstein, John Hope Franklin, Robert Frost, George Marshall, Barbara McClintock, and Robert Merton hint at the scientific, humanistic, and public accomplishments of twentieth-century members.
Today the Society has 981 elected members, 823 resident members and 158 international members from more than two dozen foreign countries.   Only 5,818 members have been elected since 1743; the Society generally elects fewer than thirty members annually.  Since 1900, 271 members have received the Nobel Prize.
"At the CIIRC CTU, we are of course aware that Vladimír Kučera is a prominent scientific personality whose results have been followed and developed by several generations of scientists. We greatly appreciate his pioneering work in the field of automatic control theory. I am especially pleased that his contribution is gradually being appreciated not only in the Czech Republic but also in the world. To be awarded alongside (Czech) presidents, humanists and scientists shows how substantial scientific results for the advancement of science Vladimír Kučera has achieved," says Professor Vladimír Mařík, Scientific Director of the Czech Institute of Informatics, Robotics and Cybernetics at CTU.
Professor Vladimír Kučera has been a Deputy Director at CIIRC CTU since 2015, before that he was the Director of the Masaryk Institute of Advanced Studies CTU, the Dean of the Faculty of Electrical Engineering CTU and also the Director of the Institute of Information Theory and Automation AS CR. In all these positions, he significantly contributed to the development of these institutions. Vladimír Kučera is also a very popular teacher, he has been lecturing at CTU and elsewhere for decades. He was the principal investigator or co-investigator of research projects with a total support of more than 1.1 billion crowns.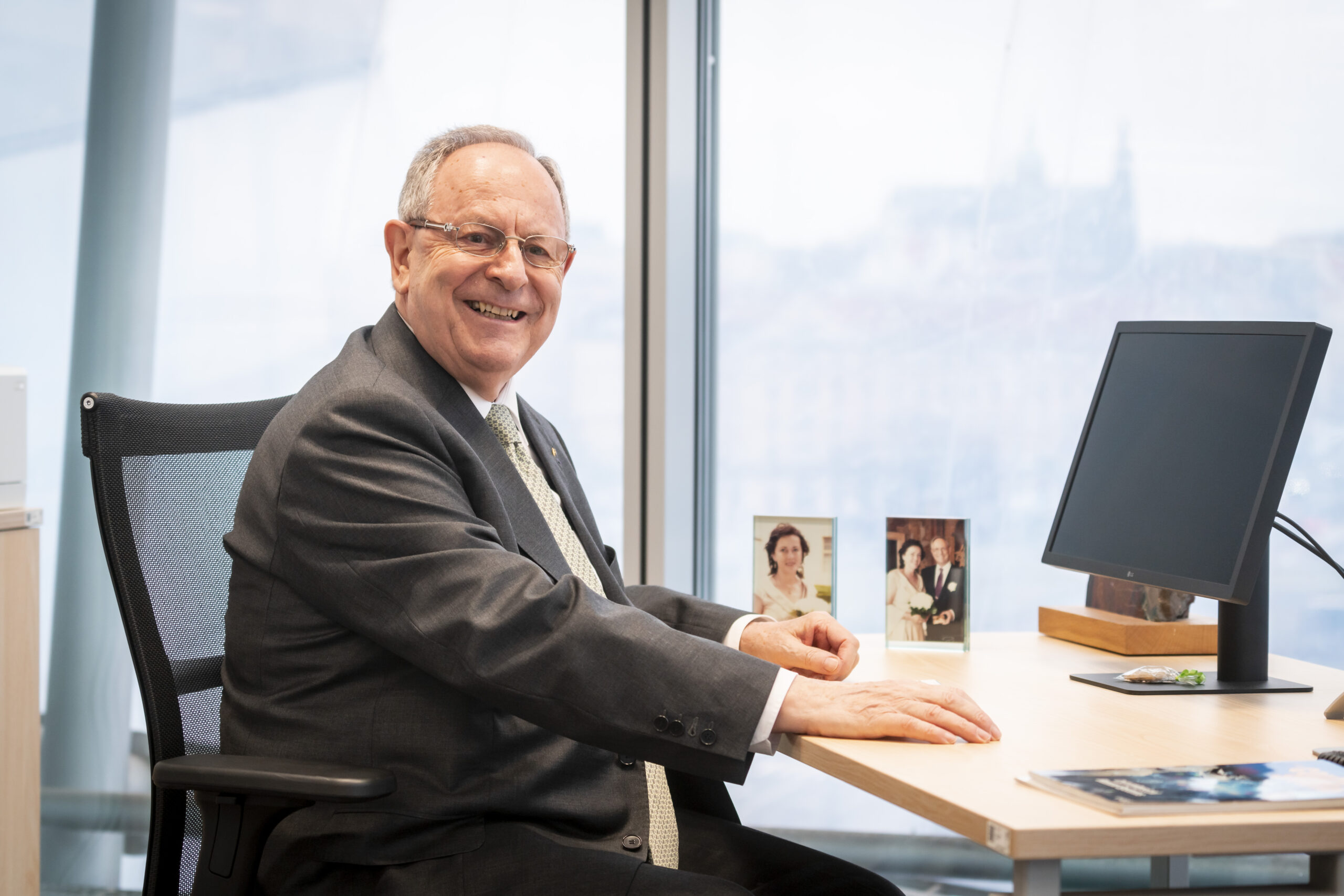 Vladimír Kučera is a 2021 laureate of the national prize Česká hlava, a former president of the International Federation of Automatic Control (IFAC), a recipient of the French national award Knight of the Order of Academic Palms and several honorary doctorates and other awards.
Photo: J. Ryszawy, CTU