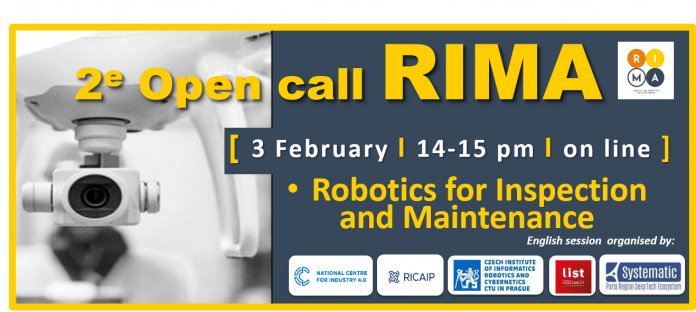 Datum / čas
Date(s) - 03.02.
14:00 - 15:00
Kategorie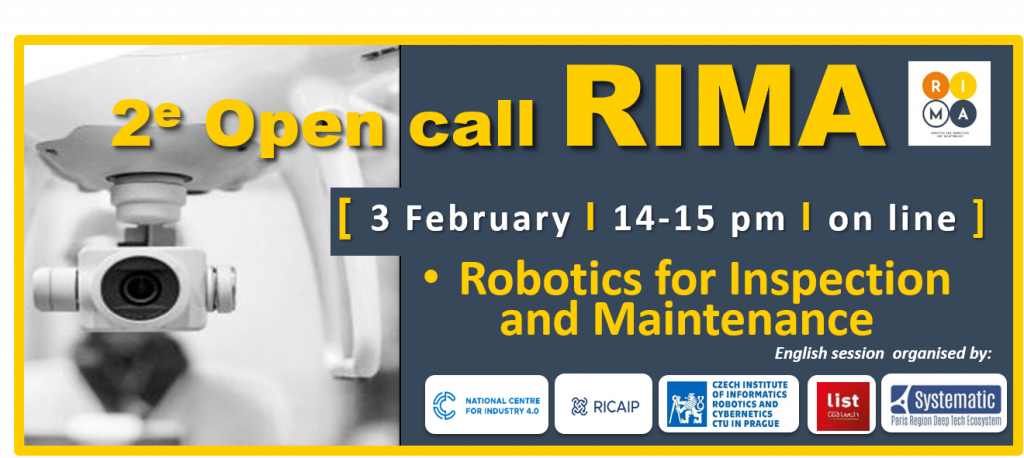 Session in English language proposed by CEA List and Systematic Paris-Region with the kind support of Czech Institute of Informatics, Robotics, and Cybernetics – CIIRC , National Centre for Industry 4.0 and Research and Innovation Centre on Advanced Industrial Production – RICAIP.
Register here for RIMA Open Call Info Day
(The connexion link to the webinar will be sent to you the day before)
The event targets SME, as defined by EU or midcaps, respectively, that are active in robotics  or IT a and software companies – Technology Developers, Service/Product Providers, System Integrators. Preferred  industrial segments are water supply and sewerage, energy production and distribution, oil and gas and chemicals, nuclear energy, urban and suburban transport routes and buildings, transport, freight transport and mobility.
Tandem of the service provider and end user (must contain at least 2 pages and can be from one country, ie the Czech Republic) can after submitting a project with a high TRL (ie  actual applied research in the last stages of prototyping, demonstrators, or verification of technological processes…) receive a grant of up to EUR 150 000.
The webinar will provide detailed info on how to join the project and prepare the application and will answer questions from the applicants side.