The Garden celebration commemorating 310th CTU anniversary in Wallenstein garden under auspices of the Czech Republic Senate and its chairman Mr. Milan Štěch took place on Tuesday, June 13, 2017. ČVUT issued a silver medal on the occasion of the anniversary. CTU Rector Prof. Petr Konvalinka awarded this medal at the celebration also to five CIIRC employees.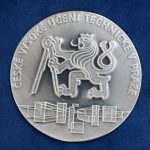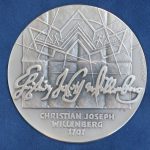 Michal Čermák, CIIRC lawyer
Václav Hlaváč, CIIRC deputy director
Vladimír Kučera, CIIRC deputy director
Petra Mikešová, CIIRC financial manager
Michael Valášek, the head of the Industrial production and automation department and the Dean of the Faculty of Mechanical Engineering
Let note that three persons from CIIRC were awarded by the same medal already at the occasion of the ČVUT-CIIRC buildings festive opening on May 2, 2017: Dr. Vít Dočkal (head of CIIRC project office), Prof. Vladimír Mařík (director of CIIRC) and Dr. Ondřej Velek (CIIRC treasurer).