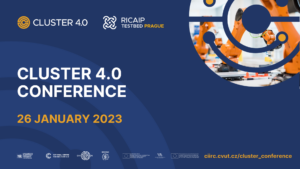 CIIRC CTU together with the RICAIP Centre and the project partners invites you to the Cluster 4.0 Conference on Industry 4.0, Flexible Production and System Integration. The event is organised at the occassion of the project Cluster 4.0 (Methodology of System Integration) finalisation. The program will present the research results and it will bring together the international network of academic and industrial partners.
The conference takes place at CIIRC CTU, 26 January 2023 at CIIRC CTU.
We will focus on the challenging research topics of Industry 4.0 – flexible production, energy optimization, or data-driven production as well as system integration and the creation of a unified software architecture for adaptable manufacturing systems. The conference is an opportunity for the project partners to review and discuss achievements as well as it gives innovative SMEs a chance to get an insight into Industry 4.0 topics.
Register here.
The Conference is designed for:
Manufacturing companies
Technology integrators
Software developers
Students and researchers
Other professionals
Program
Lectures will be held mostly in Czech language with the exception of the lectures led by the experts from abroad (no translation).
8:30 – 9:00 Registration
---
9:00 – 11:10 Modern Approaches to Flexible Production
Tilman Becker, RICAIP, DFKI: Flexible Production: A Big Picture (The lecture will be held in English)
Daniel Porta, DFKI: Asset Administration Shell and Its Industrial Relevance (The lecture will be held in English)
Achim Wagner, DFKI: Smart Production in the Context of Multiagent Systems (The lecture will be held in English)
Pavel Burget, CIIRC CTU: Cluster 4.0 Integration Platform: A Way to Modular and Flexible Production
Petr Novák, CIIRC CTU: Flexible Production Planning and Execution in Distributed Systems
---
11:10 – 11:30 Coffee Break
---
11:30 – 13:00 Energy Optimization and Data Mining
Zdeněk Hanzálek, CIIRC CTU: Production Scheduling with Variable Energy Pricing and Power-Saving States – Power of Pre-Processing
Přemysl Šůcha, CIIRC CTU: Energy Efficient Robotic Production
Martin Ron, Factorio Solutions: Discovery of Variable-Length Data Patterns and Its Industrial Relevance
---
13:00 – 14:00 Lunch
---
14:00 – 15:30 Control of Machining Operations and Machine Condition Monitoring
Petr Kolář, CIIRC CTU: Introduction to Monitoring of Machine Tools and Operations
Miroslav Dub, SIDAT; Jiří Švéda, CIIRC CTU: Machine Tool Condition Monitoring – Motivation and Use Cases
Štěpán Chládek, CIIRC CTU: Machining Process Monitoring – Framework for Data Collection and Evaluation
Štěpán Fiala, CIIRC CTU: Using Machine Learning for Data Analysis – Practical Demonstration
Matěj Sulitka, Faculty of Mechanical Engineering, CTU: Digital Twin for CNC Machine Tool: Analysis of Control System
---
16:00 Networking and Guided Tours in Testbed for Industry 4.0
---
DIH4AI Winter School for SMEs
Cluster 4.0 Final Conference is a part of 3-day event DIH4AI Winter School for SMEs, that takes place from January 24 to January 25, 2023. Get more information.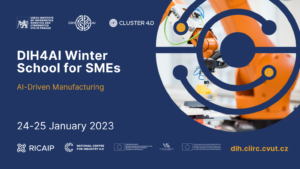 Cluster 4.0 Conference is brought to you by CIIRC CTU within projects RICAIP and Cluster 4.0 in cooperation with the National Centre for Industry 4.0 and DIH4AI.
Venue
Czech Institute of Informatics, Robotics and Cybernetics (CIIRC CTU)
Testbed Control Room (Entrance Building B1)
Jugoslávských partyzánů 1580/3
160 00 Dejvice, Prague


Synergic Project: